Eco-printing on paper is a fun and easy way to introduce children to the wonders of natural dyeing (or to get started with it yourself). Here's a tutorial for one particular method, using autumn leaves. Autumn leaves print particularly well because they are high in tannins and carotenoid and anthocyanin pigments, which will all give colour. But you could also try this process with any leaves you have around you (results will obviously vary).
You will need:
Strips of watercolour paper
Wood blocks or tiles to press the paper between
String
Autumn leaves- especially red and purple. I used maple, liquidambar and claret ash
Step 1: Fold your paper into a concertina booklet, slightly smaller than the blocks or tiles you are using. Wet it lightly, then arrange the leaves on each page.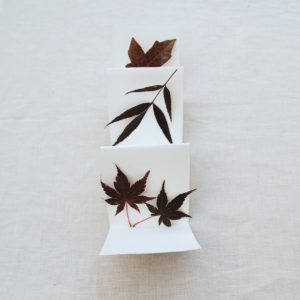 Step 2: Fold your paper up with the leaves inside. You can also put a leaf on the front and back covers. Then press between the wood blocks or tiles.
Step 3: Wrap your wood blocks with string to hold the bundle together. You want firm pressure so that each leaf is pushed into the paper, to make a clear print. With tiles, you can clamp them together with bulldog clips.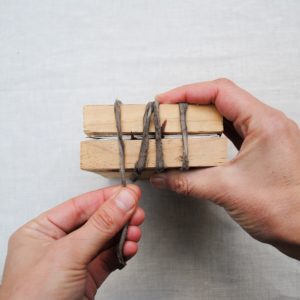 Step 4: Once your bundles are wrapped, put them in a pot of boiling water and simmer for 45 minutes to 1 hour. It is always best to use a dedicated dyepot, not one you also use for cooking. If the wood blocks float, weigh them down with a rock.
Step 5: Let them cool, then carefully unwrap, remove the leaves and let the paper dry.