Eco-printing on cotton
To be notified about upcoming workshops, please join my mailing list here.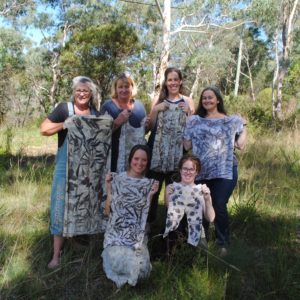 My workshops introduce you to the theory and practise of eco-printing with eucalyptus leaves. You are invited to bring along 2 items of cotton clothing (or scarves, cushion covers etc), to transform with natural plant dyes. Over the day, you will learn about and participate in:
Leaf collection and preparation
Fabric mordanting
Placing leaves
Wrapping bundles
Cooking
Unbundling
Testimonials
"Louise you are a fantastic teacher, I had the best day sharing stories, lives and magical brews in the cauldron. Came away with new knowledge plus an amazingly crisply printed piece of slow fashion." – Michele
"I thoroughly enjoyed the whole day, and really liked your style of teaching… The atmosphere was calm and organised and I especially liked the format of a bit of theory first. I loved that you gave a full demonstration on 'how to' and you were very accessible to all participants. Everyone had a good understanding of how to do each step and why, what to expect,and how to do everything safely… I will have no trouble recommending your workshop Louise, and as an older person, I am grateful to you young women who are doing the hard yards and generously sharing your knowledge." – Sue
Register your interest
For expressions of interest about future workshops, please complete the form below.